Monika Astara is one of those designers who makes everyone look good. Her garments are created individually from artful fabrics and her patterns are designed to flatter. If you have some of her designs, you understand, and you love them as much as I do.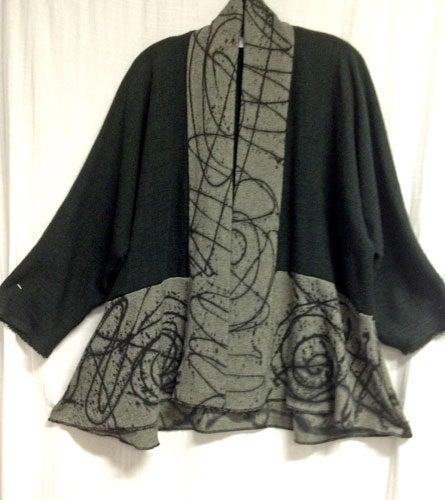 Sooooo – I'm delighted to announce that Monika will be in San Antonio on Saturday, September 30, for a Trunk Show from 11-3. And she'll have it in my home! Talk about convenient for me (and for you).
Monika is also getting pretty tech-savvy! She just sent me this short video of some of the things she'll be bringing. Wow, love those silks!
MA Trunk show Invitation Sept. 30, 2018 from Lyn Belisle on Vimeo.
So here's the deal – if you'd like an invitation to see this fabulous collection, just send me an email for directions and details. Monika always has deep discounts for my friends – woohoo!
______________________________________________________________________
But wait! There's more!! My friend Mary Ann Johnson from the Fiber Artists of San Antonio has organized an evening with Doshi, nationally-known fiber artist who will be here to juror the annual FASA Exhibit.
Doshi creates exquisite hand dyed clothing in original designs that range from contemporary to traditional.  Shibori, an ancient Japanese textile dyeing process, is the method she uses for her artistic expression.  The technique uses knotting, pleating, rolling, pressing or sewing during the dyeing process.  The resulting designs are the memories of the method used to resist the dye.
Doshi's wearable art is represented in numerous galleries across the United States.  Buyers are invited to browse the on-line catalogue or, better yet, come to the Trunk Show while Doshi is here in San Antonio!
It's going to be so much fun seeing these new designs and getting a special look for fall. Fiber art-to-wear is everywhere this fall – look at this Artful Home collection. – but we will have a better selection right here in San Antonio at these two Trunk Sales.
Now, I'm off to the Fiber Artists meeting where we will be hearing from another nationally known artist, Elaine Lipson.  In 2007, inspired by the Slow Food movement, she began to form and write about the concept of Slow Cloth. Her textiles writings articulate links between food and fiber, the importance of sustainable and ethical production practices for artists, designers, and entrepreneurs, and the joy, contemplation, and connections inherent in any textile medium.
I can't wait to hear her and see her work! Come join us at the Garden Center at 10:00 this morning if you want to learn more – it's free, and guests are welcome.
Fall and Fiber Art go together like peanut butter and jelly, love and marriage, ham and eggs, Pancho and Lefty . . . . get your art on!