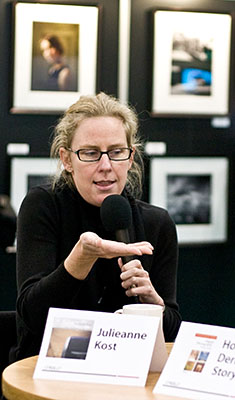 Hallelujah – I've discovered the Digital Imaging Evangelist! She's for real – Julieanne Kost is the "Principal Digital Imaging Evangelist" for Adobe Systems, and she is a wealth of creative inspiration for artists who work with digital images. Like me! – You might know that I've been using vintage digital images and encaustic wax in my latest work, like this piece, below.
The encaustic part I've learned from Michelle Belto and Clare O'Neill – and now I have a new Photoshop guru in Julieanne! She can be your guru, too – she has a ton of great FREE tutorials on her website. Combining, enhancing and altering digital images is an addictive art form – just ask my friend Jennifer Martin, who's working with me, learning Photoshop and using her own beautiful digital images. So take a look at Julieanne's tutorials if you'd like to explore the endless possibilities of the art of the digital image.
Did you notice the small gold leaf accents in the piece above? That's another technique that you can utilize when you combine wax and photocollage. Here's a photo from my new eBook, Behind the Veil: Beeswax and Collage, that shows how to use a circle punch to cut the leaf. If you don't have gold leaf that's already studio to a backing, watch the free tutorial I made to show you how to manage and use loose sheets of metal leaf.
Finally, the Friday Freebie is a whole packet of paper-backed gold leaf to use in any creative and/or goofy way! If you are the lucky SHARDS subscriber whose name is drawn Sunday night, I'll send you a package of Simple Leaf by Speedball – your choice, silver or gold. So many creative ideas, so little time – and don't forget there's a Show and Tell at the Studio tomorrow from 2-4! TGIF, Y'all…..