Yesterday, I was working on a blog post about a new project, and, as all of us here in South Texas, was distracted by worsening news about the hurricane looming off our coast. That blog post is on hold until the storm is over – too hard to think about anything else.
The photo above is the current view of Hurricane Harvey as I write this. It's a menacing spiral, not the nice kind of spirals we use in design, but spirals come from nature, and this is definitely a natural but blessedly rare example. We have friends and family in the Corpus Christi area, and some have already evacuated here to San Antonio.
What do artists do when they have to wait and worry? Well, one way they cope is to use the event for inspiration and try some creative distractions. It helps with the waiting.
Here's the first creative distraction – spirals. I found this tutorial on drawing them.
How to draw an Archimedean Spiral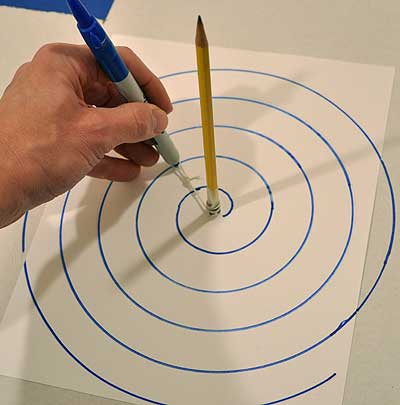 This is an easier method than trying to draw the "Golden Spiral" that you see in ammonites (and hurricanes).
And while I was thinking about tidal surges and monsoon rains, I remembered another project that I used to love (and still do). It's called "Monsoon Paper," and it was invented by art and business coach Quinn McDonald.
It involves literally allowing rain to create natural pattern on paper that has been prepared with water media. Here's a link to the instructions.
Quinn McDonald Monsoon Paper Tutorial
Now it's back to watching the Weather Channel and waiting for updates from loved ones – be safe, everyone! Like all storms, this one will eventually pass.